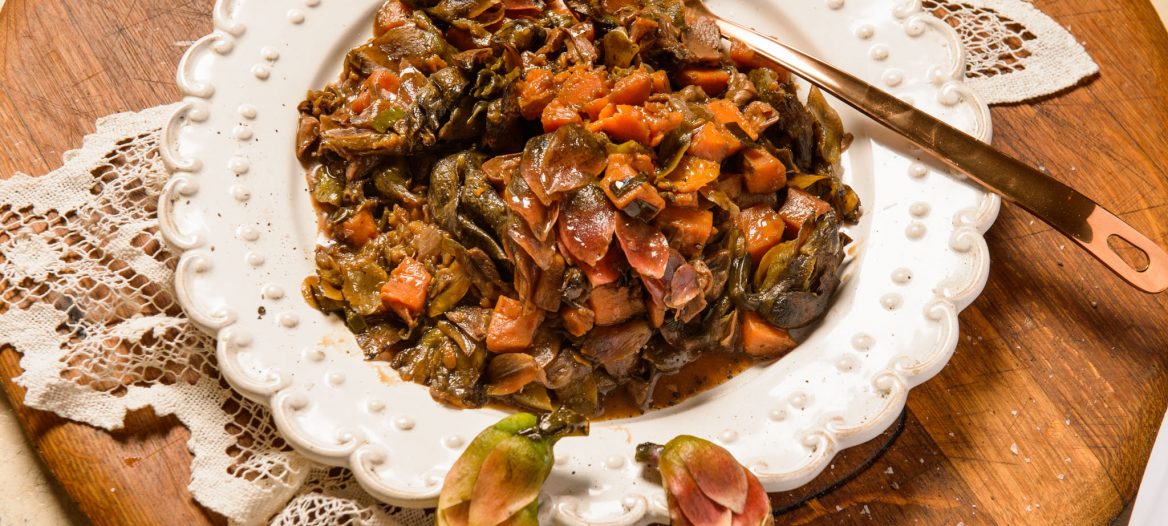 WATERBLOMMETJIE BREDIE
Waterblommetjie Bredie (Water Hawthorn Stew)
Ingredients
1

onion

(wedged into pieces)

1

orange sweet potato

(kumara, cubed)

1/3

cup

dried mushrooms of choice

(chopped, rinsed and soaked (see instructions below))

1/3

cup

red wine

1/3

cup

sherry

(you can substitute the alcohol for strong rooibos tea, if preferred)

1

tablespoon

15ml beef-style stock powder

2

garlic cloves

(crushed)

1

heaped tablespoon

(20ml vegan margarine (e.g. Schmaltz from kosher section or Cardin margarine))

1

punnet of pre-soaked waterblommetjies

(see instructions below)

1

heaped tablespoon

(20ml of cornflour, mixed with water to create a thick paste (add more water or cornflour if needed))
Instructions
Day before
Soak your dried mushrooms in a cup of warm water overnight. Strain the mushrooms but keep the water to add to the stew.

Soak the waterblommetjies in salted water overnight. Swirl the water with your hands every now and again and shake the waterblommetjies well to dislodge any insects. Strain and omit the salt water.
On the day
Sautee the onion slightly in a bit of olive oil or vegan margarine.

Add the rest of the ingredients.

Bring to a boil, lower the heat and simmer until the waterblommetjies can be pierced through the thickest section.

Serve over rice of choice.
Notes
Recipe credit: Toni Brockhoven from Beauty Without Cruelty for Green Monday SA
Photo credit: House of Vizion