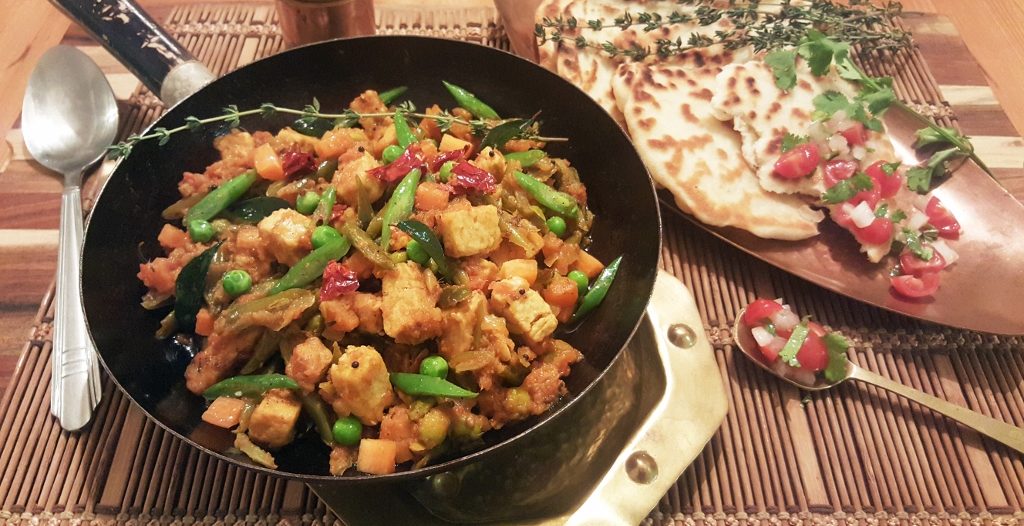 Quorn & Mixed Vegetable Curry
Quorn & Mixed Vegetable Curry
2016-10-03 07:51:04
Serves 3
Ingredients
1 ½ cups (375ml) Quorn Vegan Savoury Pieces
2 tbsp. (30ml) olive oil
¼ tsp. yellow asafoetida
¼ tsp. mustard seeds
2 sprig curry leaves
¼ tsp cumin seeds
1 small cinnamon stick
1 cup (250ml) onion finely chopped
3 – 4 sprigs of fresh thyme
1 tbsp. (15ml) finely chopped green chillies
1 tsp. (5ml) ginger finely chopped
1 tsp. (5ml) garlic finely chopped
½ tbsp. (7.5ml) coriander powder
1 tsp. (5ml) cumin powder
1 tsp. (5ml) turmeric powder
2 cups (500ml) green beans diagonally sliced
½ cup (125ml) carrots cubed
1 tsp. (5m) salt
½ cup (125) frozen peas
1 very large plum/gem tomato liquidised (1 cup 250ml)
2-3 dry red chillies, crushed
1 pinch garam masala
1 cup (250ml) warm water
Instructions
In a pot, heat the olive oil, asafoetida, mustard seeds, 1 sprig curry leaves, cumin seeds and cinnamon stick until spices burst.
Add the onion, thyme and chillies and sauté until lightly browned – 5 minutes.
Add the ginger & garlic and fry for a few seconds.
Stir in the coriander powder, cumin powder and turmeric powder. Fry for a few seconds.
Add the green beans, carrots and salt and cook for 5 – 8 minutes.
Add the tomatoes and cook through, about 10 – 12 minutes.
In a separate pan, cook the Quorn pieces as per the packet instructions. Once cooked, drain on paper towel and set aside.
Using the same oil, fry the remaining sprig of curry leaves, garam masala and the roughly crushed red chillies. Cook for a few seconds, remove and set aside.
Once the tomatoes are fully cooked, add the water and simmer on low for 5 - 8 minutes.
Stir in the cooked Quorn pieces, remove from the heat and allow to stand for 2 minute.
Top the curry with the fried curry leaves, garam masala and chillies mix and serve with naan, roti or bread of your choice and a fresh tomato salsa.
Notes
Recipe credit: Videhi Sivurusan
Green Monday https://greenmonday.co.za/wordpress/