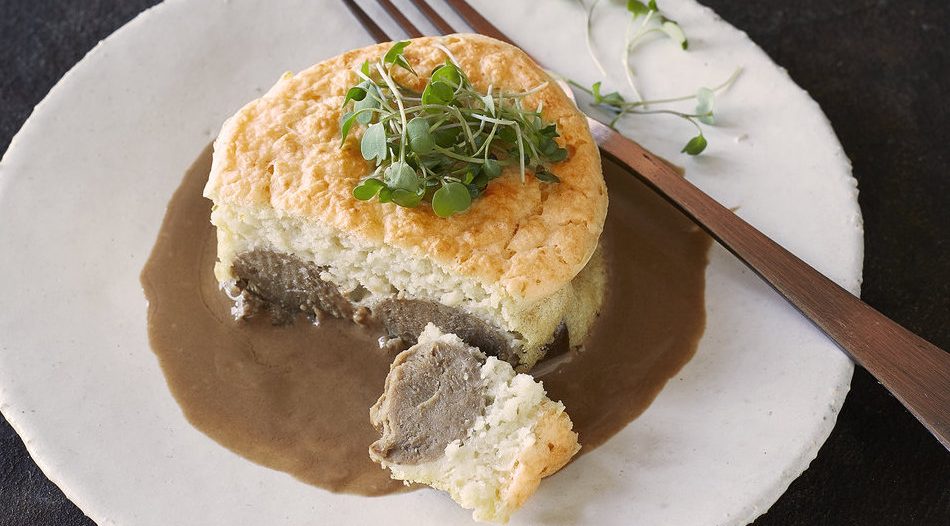 TOAD IN A HOLE WITH GRAVY
TOAD IN A HOLE WITH GRAVY
Ingredients
3

Fry's Braai-Style Sausages

(frozen)

50

g

chickpea liquid/brine

50

g

flour

5

ml

baking powder

90

ml

almond milk

Bisto gravy

(to serve)

A small handful of rosemary

(to serve)

Micro greens

(to serve)
Instructions
Preheat the oven to 220°C.

In a non-stick, medium-sized, 6-hole muffin tray, spray with non-stick spray, then add about a tbsp. of oil to each. Allow the muffin tray with the oil to heat up in the oven.

Add a sausage half to each muffin hole and return to the oven.

Meanwhile, beat the chickpea liquid/brine until stiff.

In a separate bowl, sift the flour and baking powder twice, and then sift it into the beaten chickpea liquid/brine.

Add the almond milk. Fold in the flour and almond milk.

Working quickly, top each sausage with the batter and return it to the oven for about 15 - 20 minutes, until golden.

Top with your favourite gravy and garnish with a sprig of rosemary and micro greens.

Pour the sticky mixture into your potjie and place on a grid over the coals (low- medium heat) for 30 minutes.

While it is cooking, make your sauce by boiling the coconut cream, margarine, sugar, water and vanilla essence together in a pot over high heat.

As soon as your pudding is cooked, poke or cut lots of holes into the sponge with a fork/knife and pour the sauce mixture over. Return to the coals (very low heat) in order for the sauce to draw into the sponge.