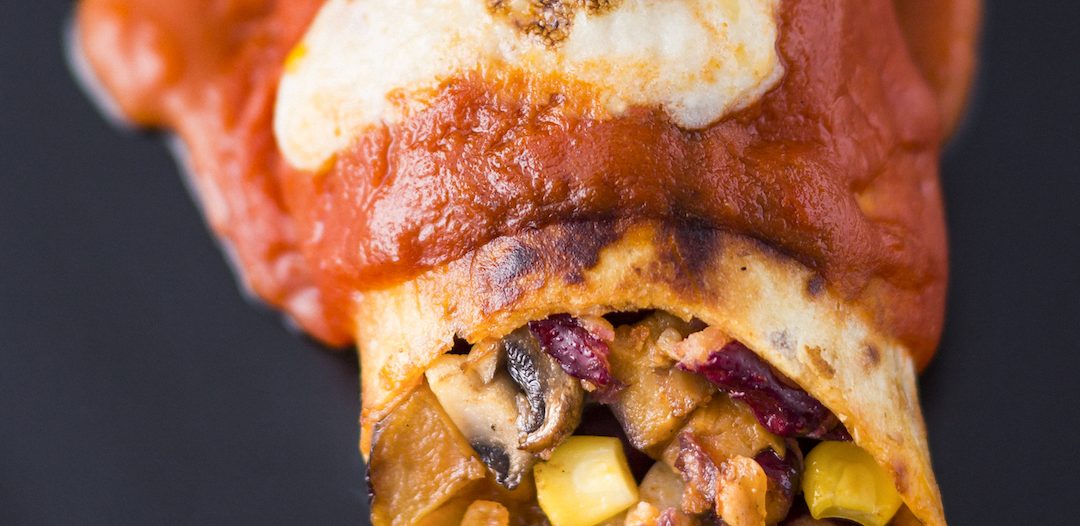 MEXICAN ENCHILADA
Mexican Enchiladas
Ingredients
10

flour wraps

2

onions

(peeled and chopped)

12

grams

garlic

1 1/2

tablespoons

cumin powder

1 1/2

tablespoons

coriander powder

2

cans red kidney beans

10

grams

ginger

(minced)

2

cans chopped tomatoes

300

grams

frozen corn

1

kg

brinjals

(cubed (1cm by 1cm))

Salt to taste

Oil for frying
For the enchilada sauce
1 1/2

tablespoons

sugar

6

tablespoons

flour

600

milliliters

tomato puree

1

tablespoon

coriander powder

1 1/2

tablespoon

paprika

Oil for frying.
For the cheese sauce
400

grams

potatoes

(peeled and cubed)

1/4

cup

nutritional yeast

150

milliliters

oil

30

milliliters

lemon juice

Salt to taste
Instructions
Pre-heat the oven to 180 degrees Celsius.

Let the wraps out to defrost at room temperature while making the rest of the recipe.

Boil the potatoes for the cheese sauce while you prepare the rest of the ingredients.

Heat oil in a pan and fry mushrooms, put aside.

Fry brinjal cubes in enough oil so that they do not stick to the pan. As the oil cooks away you can add a bit of water to make the brinjal cook quicker. Cook until soft. A knife should slide through the brinjal cube easily and the brinjal should be a bit crispy on the outside. Put the brinjal aside.

In the same pan with the leftover oil, sauté onion, garlic ginger, paprika, coriander powder and oregano.

Once the onions are soft, add drained red kidney beans. Mix together.

Add the mushrooms, brinjal and corn and fry quickly, just to mix all the flavours together.

To make enchilada sauce: add oil and flour to a sauce pan. Stir together, then add tomato puree, coriander powder and sugar. You can add a bit of water if necessary, but keep the sauce to a thick and creamy consistency. Leave the sauce in the pan to pour over the enchiladas later.

To make cheese sauce: place the boiled potatoes, 125ml unsweetened soy milk, nutritional yeast, oils, lemon juice and salt in the processor and mix until smooth. Set aside.

Heat oil in a pan to fry the tortillas. Fry the tortillas for about 8 seconds on each side (if they are not fully defrosted then fry them a bit longer).

Fill wraps with bean mixture and roll into long rolls. Place next to each other in an oven-proof dish. Pour enchilada sauce over the wraps to cover them completely.

Pour a bit of the cheese sauce down the middle of each wrap.

Bake enchiladas in the oven for 20 minutes at 180 degrees Celsius.
Notes
Bulk recipe that serves 10