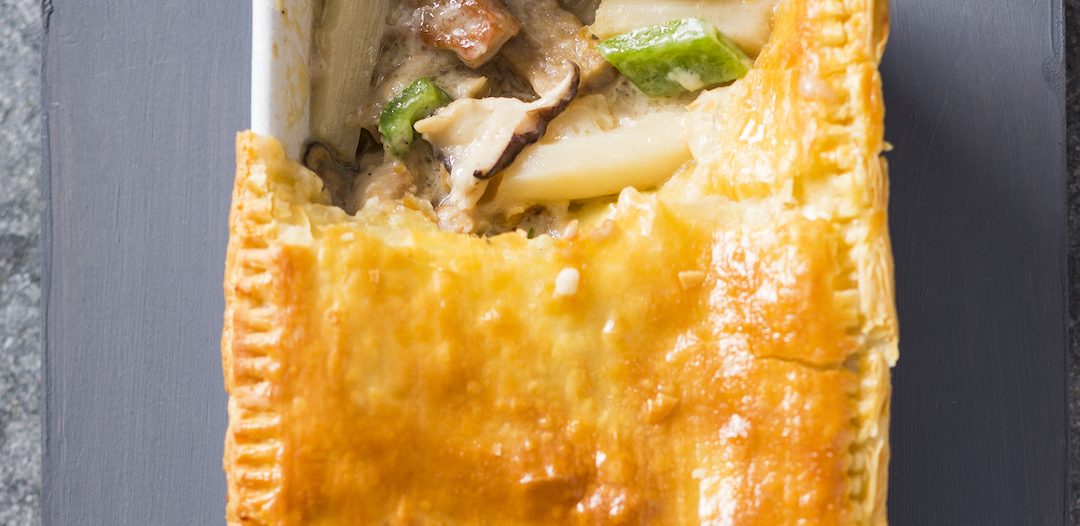 MARVELLOUS MUSHROOM AND CHICKEN-STYLE PIE
MARVELLOUS MUSHROOM AND CHICKEN-STYLE PIE
Ingredients
1.5

litres unsweetened soy milk

160

grams

cake flour

150

milliliters

oil

10

grams

corn flour

2

grams

nutmeg

1

gram

cayenne pepper

1

teaspoon

salt

40

milliliters

lemon juice

10

grams

vegetable stock powder

1

onion

(peeled and finely chopped)

1/2

green pepper

(chopped)

500

grams

mushrooms

(sliced)

1

teaspoon

crushed garlic

2

boxes Fry's Chicken-style strips

Oil for frying

1

can white asparagus

20

grams

fresh parsley

(chopped)

1

roll

(400 grams puff pastry)
Instructions
Pre-heat oven to 200 degrees Celsius.

Let the puff pastry defront while you make the filling ingredients.

To make the white sauce, blend (or whisk) together 1/2 liters of unsweetened soy milk, flour, corn flour and oil in the processor.

Place in a pot and whisk until it becomes thick and creamy. Add nutmeg and cayenne pepper and 1 teaspoon of salt. Slowly add the rest of the milk while whisking until you have a thick and creamy white sauce. Add lemon juice and stir.

Dissolve the vegetable stock powder in a little bit of water and add to white sauce, continue to stir until cooked through, then switch off the heat.

In a pan, fry the chopped onions and green pepper in oil for 2 minutes. Add to white sauce.

In the same pan, fry mushrooms in oil with garlic and sprinkle of salt. Then add to white sauce.

In the same pan, fry the Chicken-style strips in oil. Make sure to fry the strips separately and not with the other veg to ensure they become crispy. If the strips are still frozen, add them to the pan without oil first to cook off the water, so that the oil and water don't mix. Once crispy, take the strips off the heat and sprinkle with salt and pepper. Cut the pieces in bite-size pieces, and add to white sauce.

Cut asparagus pieces into 2cm strips. If already cut, add as is. Add the asparagus with its liquid, and the fresh parsley to the sauce and stir.

Turn the heat up again and stir through all the filling ingredients.

Test the sauce: it should be thick and creamy and move around slowly when you tilt the pan. If you feel the sauce is too thin, dissolve a tablespoon of corn flour in water and add to the sauce, put the pan on the heat again and mix the corn flour until cooked through. If you feel the mixture is too thick, however, put the pan on the heat again and add a little bit of soy milk gradually until it reaches the right consistency.

When your sauce is ready and mixed through with all the ingredients, place mixture into a deep serving dish.

Roll out defrosted puff pastry and place over mixture. If the pastry overlaps a bit, fold it back onto the pastry to make a thicker crust. Brush a bit of oil over the surface.

Bake in the oven at 200 degrees Celsius until the pie is golden brown.