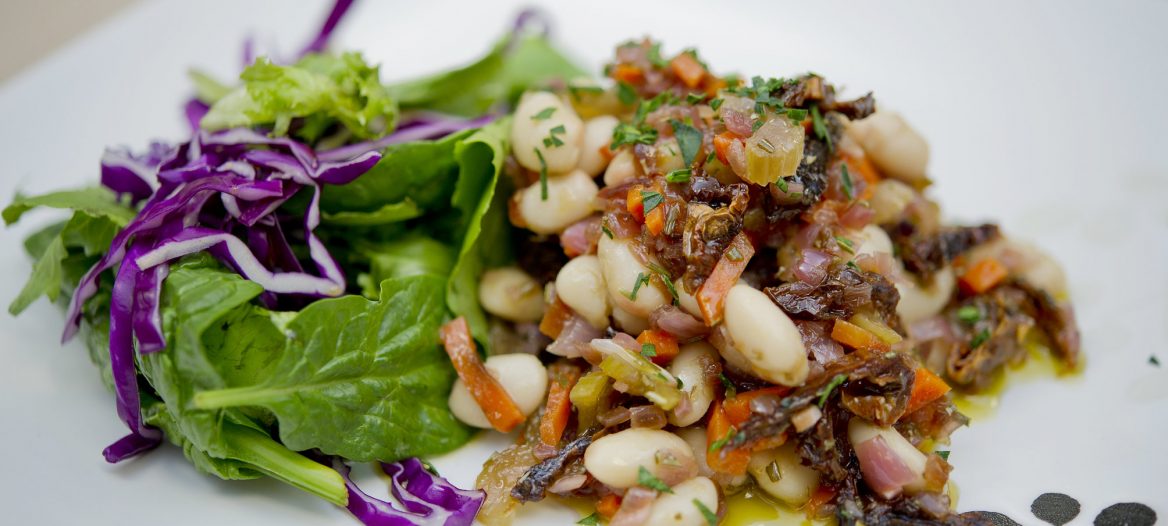 Warm White Bean Salad
Warm White Bean Salad
Ingredients
1

can

(425g of white beans, drained)

1/4

cup

60ml red wine vinegar

4

cups

900g fresh rocket leaves

1/2

cup

115g firmly packed sun-dried tomatoes

1/2

cup

115ml extra-virgin olive oil

1

cup

225g diced red onion (about 1 medium onion)

1/2

teaspoon

coarse sea salt or kosher salt

1

cup

225g thinly sliced, peeled carrots (about 2 medium carrots)

1

cup

225g thinly sliced celery stalks (or about 2 medium celery sticks)

2

garlic cloves

2

tablespoons

fresh rosemary

(minced)

1/2

teaspoon

crushed red pepper flakes

(chilli flakes)

2

tablespoons

finely chopped

(fresh, flat-leaf parsley for garnish)
Instructions
In a large sauté pan over high heat, combine the oil, onion, and salt and sauté for 2 minutes.

Add the carrots, celery, garlic, rosemary, and red pepper flakes and sauté for 1 more minute.

Add 1/4 cup (60ml) of water and cover the pan. Cook over high heat until the vegetables are just crisp-tender (about 2 minutes). Uncover the pan and turn off the heat.

Stir in the beans, tomatoes, and vinegar, and season with salt to taste.

Toss the beans with the arugula and serve garnished with the chopped parsley.
Notes
Nutrition:
All figures are per serving (assumes 4 servings).
Calories: 384
Fat: 28 g
Carbs: 27 g
Fiber: 8 g
Protein: 8 g
Sodium: 503 mg
Recipe from Fresh Food Fast by Peter Berley of North Fork Kitchen.
Photo credit: Michelle Riley/The HSUS