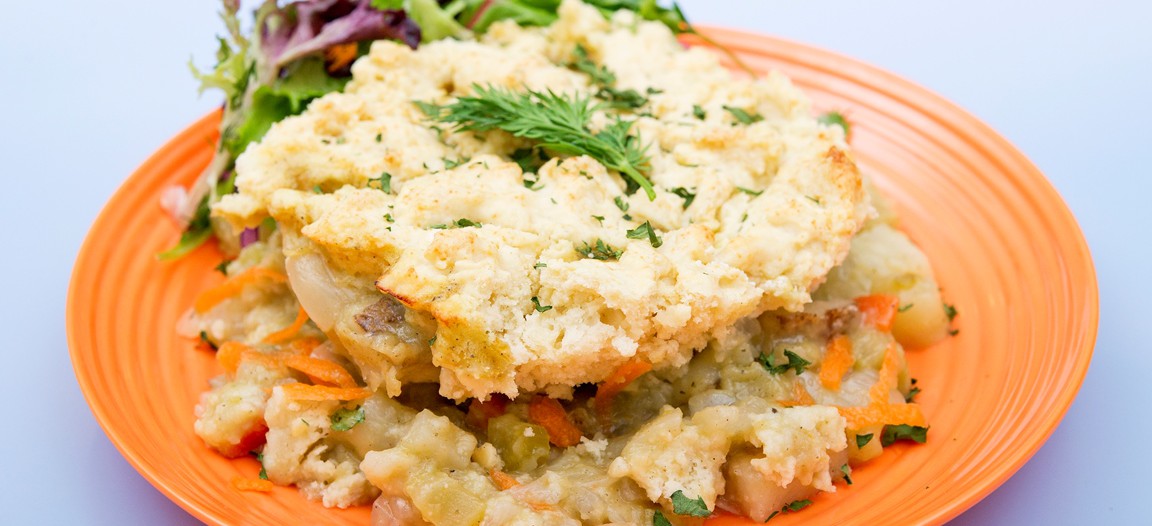 Vegetable Casserole with Biscuit Topping
Vegetable Casserole with Biscuit Topping
Ingredients
2

potatoes

(diced)

1/4

cup

light olive oil

1

carrot

(diced)

3

ribs celery

(diced)

1

onion

(diced)

1/3

cup

flour

1

teaspoon

garlic

(minced (optional))

1

teaspoon

thyme

(chopped)

1

can ready-to-serve split pea soup

4

cups

vegetable broth

1 1/2

teaspoons

salt

(or to taste)

1/4

teaspoon

ground black pepper

(or to taste)

Biscuit dough
Instructions
Preheat the oven to 205 C

Boil the potatoes for 10 minutes. Drain off the water and set the potatoes aside.

In a large saucepan, sauté the carrot, celery, and onion in the oil until the vegetables are tender. Reduce the heat to low.

On reduced heat, add the flour, garlic, and thyme. Sauté for 2 minutes.

Stir in the split pea soup, potatoes, and vegetable broth.

Bring the stew to a boil, reduce the heat to low, and simmer for 10 minutes, stirring frequently. Add salt and pepper to taste.

While the stew is simmering, prepare the 5-ingredient biscuit dough.

Pour the stew into a 10 x 15-inch baking dish. Drop 15 uncooked biscuit dough balls on top of the stew. Bake, uncovered, for 20 minutes or until a toothpick inserted into the middle of a center biscuit comes out clean.
Notes
Recipe from Vegan Family Cookbook by Brian P. McCarth
Photo by Michelle Riley, HSUS