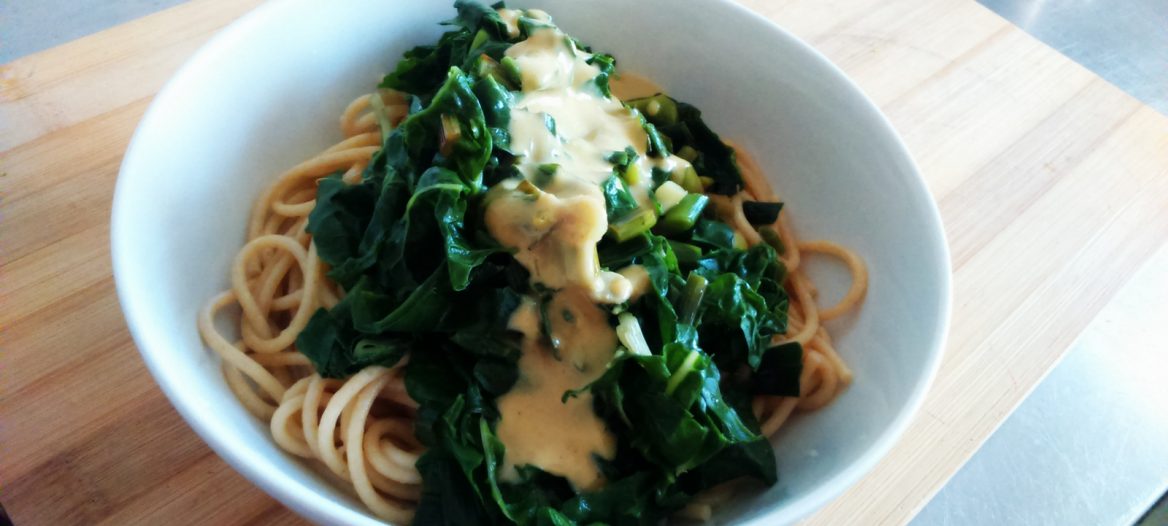 JODY C'S SPINACH SUPER BOWL
JODY C'S SPINACH SUPER BOWL
Ingredients
1/2

packet of spaghetti

(you can use any type of spaghetti: gluten free made from rice, lentils, chickpeas or peas, corn spaghetti, wholemeal lentil spaghetti for extra protein, or even zucchini noodles)

Coconut oil

(for frying)

6-8

baby leeks

(chopped)

1

clove

garlic

(chopped)

1

large bunch of spinach

(chopped)

3

tablespoons

tahini

4

tablespoons

lemon juice

1

teaspoon

agave / vegan honey

1

teaspoon

mustard

Salt & pepper for seasoning
Instructions
Cook the spaghetti according to the instructions.

While the spaghetti is cooking, heat up a dollop of coconut oil in a non-stick pan.

Add the chopped garlic and baby leaks & allow to sizzle for 3 or 4 minutes.

In the meantime, mix the tahini, lemon juice, agave and mustard in a bowl. It will get a little sticky. Here it is IMPORTANT to gradually add a little bit of water and keep stirring until a smooth creamy paste is formed.

To the leaks, add in the spinach with some seasoning and allow to soften and wilt (DON'T overcook, it needs to maintain its colour!)

Once the spaghetti is done, drain and toss with some olive oil.

Serve in a bowl topped with the spinach & leek mix and drizzled with the creamy tahini dressing.
Notes
Recipe & photo credit: Jodi C AKA The Veggie Babe