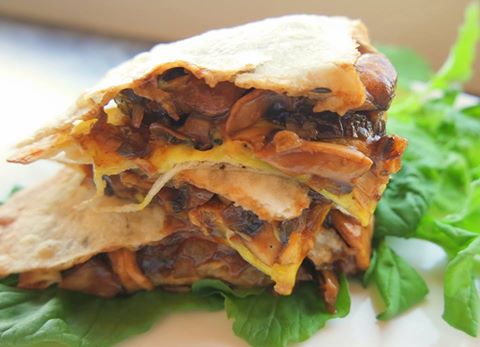 CHEESY QUESADILLAS WITH EGGPLANT & MUSHROOM FILLING
CHEESY QUESADILLAS WITH EGGPLANT & MUSHROOM FILLING
Ingredients
For the Stringy Cheese
- ½ Cup of Almond Breeze Original Milk*

- 2 tablespoons of Coconut Oil

- 1 Cup of Almond Milk

- 3 tablespoons of tapioca flour

(e.g. Nature's Choice)

- 3 tablespoons of nutritional yeast

- 1 teaspoon garlic powder

- 1 teaspoon celery salt

(e.g. Nature's Choice)

- 1 teaspoon English mustard powder

- ½ teaspoon turmeric

- 1 tablespoon lemon juice
For the oven-roasteed eggplant
- 1 large Eggplant

- 1 tablespoon of cumin

- 1 tablespoon of paprika

- 2 tablespoons of celery salt
For the creamy mushroom sauce
- 200 g sliced mushrooms

- 1 tablespoon of coconut oil

- ½ white onion diced

- 2 teaspoons of fresh thyme

- 2 cloves of garlic

(crushed)

- 1 teaspoon of Ina Paarman beef-flavoured stock

- 2 tablespoons of reduced balsamic or 1 tablespoon of Hoisin sauce

- 1 cup of Almond Breeze Milk

- 1 teaspoon of arrowroot powder or organic corn flour
Instructions
Stringy Cheese
Place ½ cup Almond Breeze Original Milk* and 2 tablespoons of coconut oil in a thick base pot on the stove top.

Mix the rest of the ingredients together in a mixing bowl until smooth.

Slightly heat the Almond Breeze and coconut oil in the pot and add mixing bowl contents.

Keep on whisking until it starts to get lumpy.

Turn the heat to the lowest setting and scrape the bottom of the pot continuously using a wooden spoon.

Keep scraping for about 4 to 5 minutes.

Remove from stove top and set aside.
Oven Roasted Eggplant
Slice eggplant in 1 cm circles.

Mix the spices together and sprinkle to taste on the circles. (Don't use the entire mixture, it will be too salty.)

Place eggplant in a mixing bowl, add a drizzle of olive oil, and mix through by hand.

Place eggplant slices in one layer on a large baking tray and bake in the oven at 180 degrees C for 20 to 30 minutes.

Remove from oven and transfer to kitchen towels to drain.
Creamy Brown Mushroom Sauce
Fry mushrooms, onions, garlic and herbs in the coconut oil.

Add mushrooms and cook till translucent.

Sprinkle with stock powder and reduced balsamic.

Mix arrowroot with milk and add to the sauce.

Cook on low heat till thick and creamy.
Build your Quesadilla
Spread a layer of stringy cheese on the base of your Quesadilla.

Add a layer of eggplant and top with creamy brown mushroom sauce.

Cover with another Quesadilla and quickly place in sandwich press or oven to crisp up.
Notes
Don't have Quesadilla's? The filling is fantastic in burgers, tacos and wraps too!
Recipe and photos by Pieter Kotze