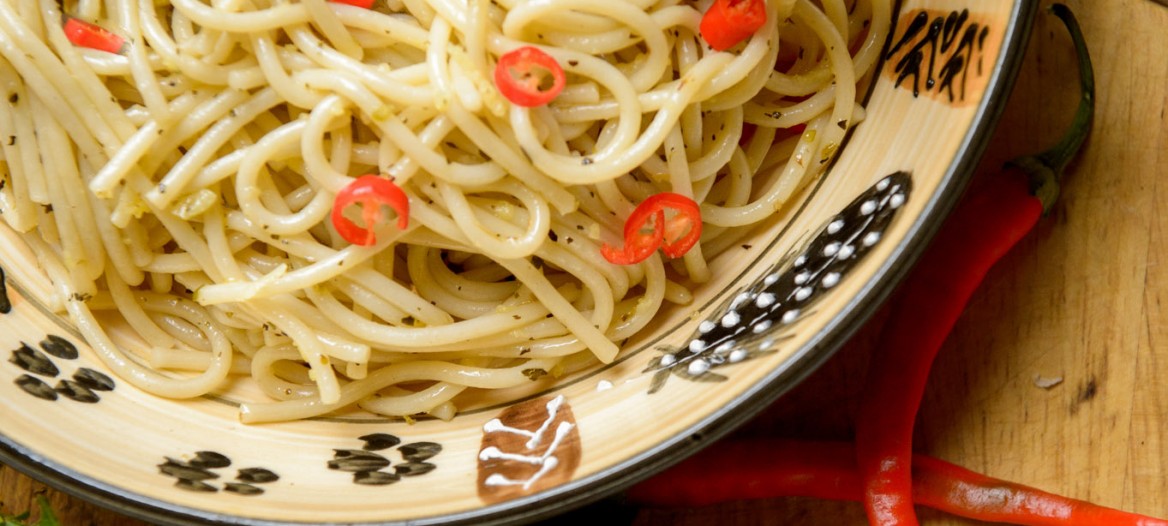 Basil Spaghetti
Basil Spaghetti
Ingredients
Packet spaghetti

5

ml

dried basil

5

ml

dried oregano

3

cloves

garlic

40

ml

margarine

Salt to taste

Lemon

Sprig fresh basil
Instructions
Boil half a packet of spaghetti. Put water on the stove, add some salt, and bring to the boil. Once the water is boiling, add the spaghetti. Stir with a fork until all the spaghetti is submerged. This will prevent it from sticking and clumping together. Do this a few times at the initial stages of the boiling. It's important not to add oil to the water - oil covers the boiled spaghetti and prevents any pasta sauce from sticking and covering your spaghetti completely.

In a separate pan, melt your margarine. When the margarine begins to melt, add the crushed garlic (crush your garlic gloves in to fine little pieces beforehand). Don' put your heat on too high. You don't want the heat to scorch or burn your garlic as it will become bitter. You want the garlic to infuse the margarine and that means melting the butter at a slow steady rate. After the margarine has melted and no longer looks milky, sprinkle in your dried herbs. Fry this mixture until the garlic is a nice light golden brown. It is important to taste your mixture every now and then to a) make sure your garlic isn't burning and b) to make sure that your taste balance is right. I generally start off with a teaspoon of herbs and if during the tasting (while cooking) I think it needs more of anything, I just add it until I get the taste that I am happy with. Once you're happy with the taste of your mixture (the sauce), set aside.

Once the spaghetti is cooked, drain and put in a bowl. Gingerly drizzle over the spaghetti and mix the sauce and the spaghetti until all the spaghetti is nicely covered. You can add more sauce, but because this is such a decadent dish, if it's too buttery it can become too rich and oily.

Grate some lemon zest over the spaghetti just before serving and place the basil sprig on top for garnish.
Notes
Recipe Credit: Nikki Botha
Photo Credit: House of Vizion