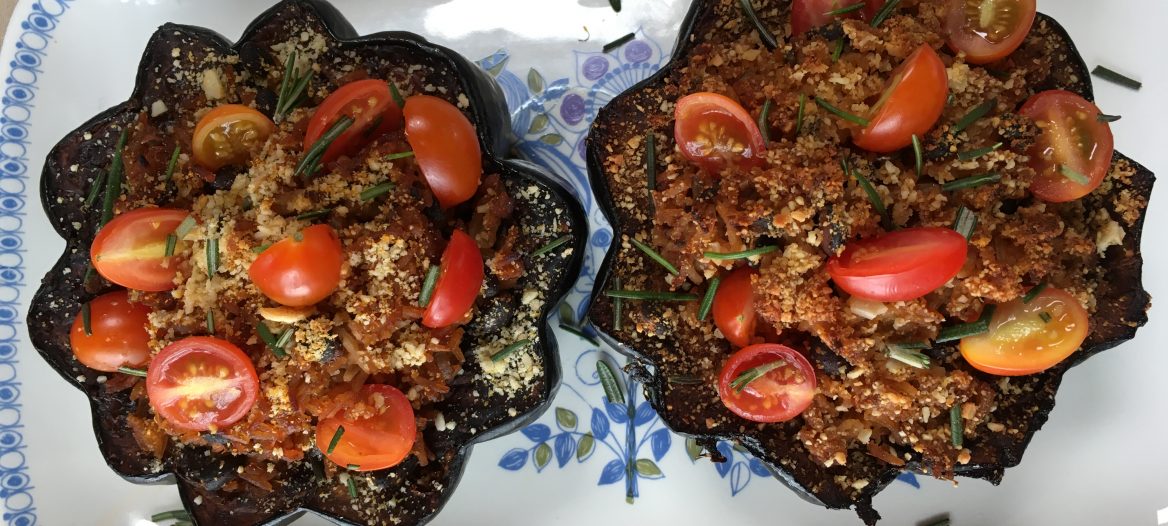 STUFFED ACORN SQUASH
Stuffed Acorn Squash
Ingredients
1

acorn squash

1

cup

brown rice

(cooked in veg broth and drained (see instructions))

1

cup

brown lentils

(cooked in veg broth and drained (see instructions))

4

cups

vegetable broth

1

cup

mushrooms

(diced)

1/2

cup

onions

(diced)

2

tablespoons

garlic

(minced)

2

teaspoons

ground cumin

1

tablespoon

ground paprika

1

cup

tomato sauce

1

teaspoon

dried thyme

1

teaspoon

dried rosemary

1

tablespoon

dried parsley

Salt & pepper to taste

2

tablespoons

roasted nuts

(optional)

1/4

cup

cherry tomatoes

(chopped)

1

sprig rosemary

(fresh)
Instructions
Cut acorn squash in half. Chop off stems or tails so that it can lay flat.

Leaving seeds inside, roast squash halves face down on a baking sheet at 200 degrees Celcius for

50 minutes.

Remove from oven and turn upside-down to remove seeds.

Cook rice and lentils in vegetable broth. Drain and reserve liquid.

In a large pan, cook onions and mushrooms on high till mushrooms

release liquid.

Add herbs and spices and cook for 5 minutes.

Add lentils and rice and 1⁄2 cup remaining veg broth.

Season with salt & pepper to taste.

Fill squash halves with lentil mixture.

If desired add roasted nuts or seeds for crunchy texture and additional protein.

Top with chopped cherry tomatoes and fresh rosemary.

Return squash halves to the oven at 180 degrees Celcius for 10 minutes before serving.
Notes
Recipe: Culinary Specialist François Murphy, HSI-Canada
Photo credit: HSI-Canada