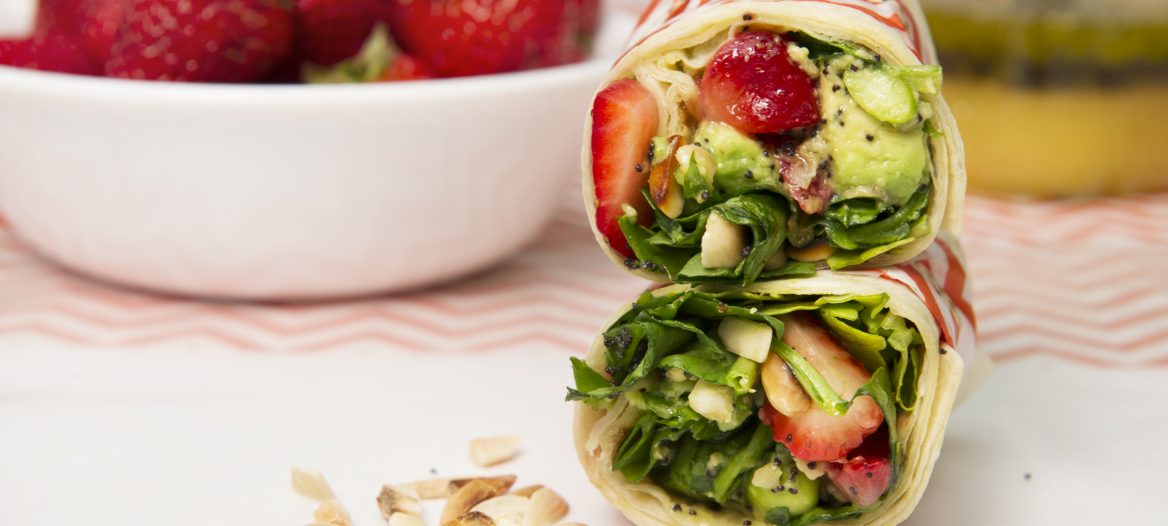 Strawberry-Spinach Wraps with Orange Poppy Seed Dressing
Strawberry-Spinach Wraps with Orange Poppy Seed Dressing
Ingredients
4

x 30cm whole-wheat tortilla wraps

2

x cups baby spinach

(loosely packed)

2

x cups arugula

(loosely packed (or more baby spinach))

1

x punnet strawberries

(tops removed and sliced thin)

1

x avocado

(diced)

1/3

x cup toasted almonds

(optional)
For the dressing
1/3

x cup olive oil

1/3

x cup orange juice

1

x tablespoon agave nectar or maple syrup

2

x tablespoons apple cider vinegar

1/4

x teaspoon salt

1

x tablespoon poppy seeds
Instructions
Prepare the salad by combining the spinach, arugula, edamame, strawberries and avocado in a large bowl. Toss gently to combine.

Using a blender or a whisk, combine all dressing ingredients (except the poppy seeds) until emulsified, then stir in the poppy seeds.

Pour most of the dressing over the salad ingredients and mix well.

Reserve 1 to 2 tablespoons of dressing for the wraps.

To assemble the wraps, brush a little of the reserved dressing on a tortilla and then add the salad ingredients. Sprinkle a few toasted almonds, if using, over the salad, then roll up the wrap.