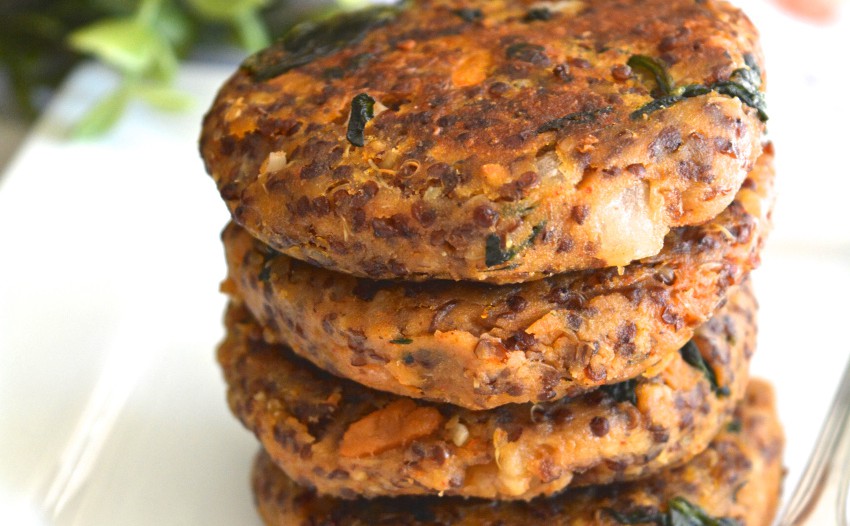 Red Quinoa and Sweet Potato Patties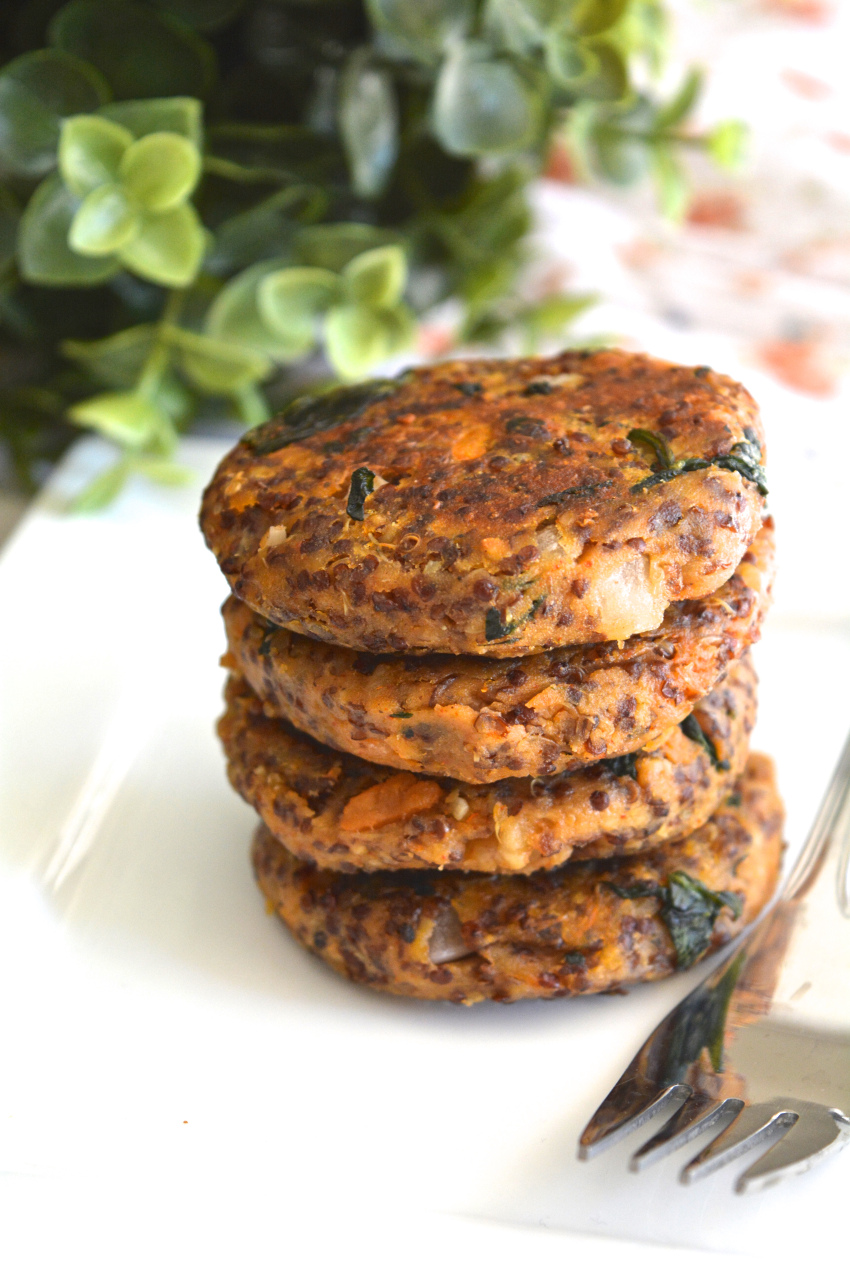 Red Quinoa and Sweet Potato Patties
Ingredients
½

cup

red quinoa

(soaked in 2 cups water for 6 hours or more)

4

cups

water

1

teaspoon

salt

(plus salt to taste)

1

medium sweet potato

(cubed)

½

onion

(finely chopped)

2

cloves

garlic

(grated)

½

cup

walnuts

2

handfuls spinach

¼- 1½

cup

brown rice flour

1

tablespoon

chili flakes

(optional)

1

tablespoon

lemon juice

4

teaspoons

coconut oil
Instructions
Bring 2 cups of water to a boil and add 1 teaspoon salt. Add the soaked red quinoa and let cook for 10 minutes, until quinoa is mushy. Cover and let stand for another 5 minutes, then fluff the quinoa with a fork. Let the quinoa rest overnight in the refrigerator.

Bring 2 cups of water to a boil and add the sweet potatoes. Cook until well done, about 12 minutes. Strain the sweet potatoes and pat them dry. Then, mash the sweet potatoes and add them to the quinoa.

Heat a pan over medium heat. Add the quinoa and sweet potato mixture and stir to remove any water.

Add the onion, garlic and spinach and stir until spinach has wilted. Transfer the mixture to a container.

In the same pan, combine 1 teaspoon of coconut oil with the walnuts. Roast the walnuts until crisp and carefully remove them from the pan. Let the walnuts cool and chop coarsely. Then, add the walnuts to the quinoa mixture.

Fold in the chili flakes, lemon juice and preferred amount of salt. Then, fold in ¼ cup of the brown rice flour. The mixture should now be the consistency of pizza dough. If it is runny, continue to fold in additional brown rice flour until the desired consistency has been met.

Shape the quinoa mixture into palm-sized patties and pan-fry them in the remaining coconut oil over medium heat. Serve immediately, or freeze for a future meal.
Notes
Recipe courtesy of Charanya Ramakrishnan, author of the Yes, I Am Vegan blog
Cooking on the Afternoon Express TV show – Leozette - […] – perfect to eat in winter to fight the infamous flu. Chef Clem demonstrated our Green Monday quinoa and…