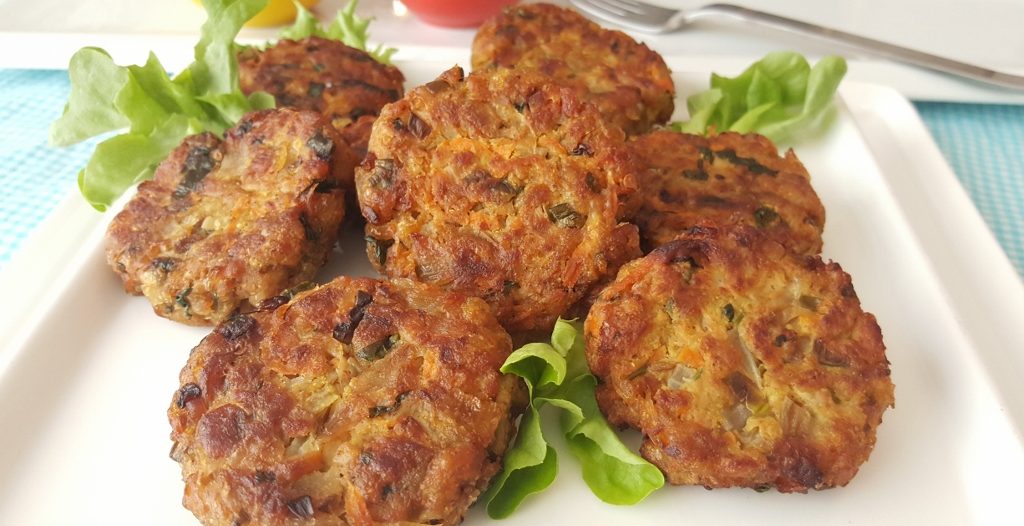 Quorn Vegan Savoury Bites
Quorn Vegan Savoury Bites
Ingredients
1

cup

250ml Quorn Vegan Savoury Pieces, defrosted

1

tbsp.

15ml flax seed powder

3

tbsps.

45ml cold water

Fresh bread crumbs made from 1 ½ slices white bread

1

cup

250ml grated potato

1/3

cup

80 ml grated carrots

1

cup

250ml finely chopped onions

¼

cup

60 spring onions finely chopped

2

tbsps.

30 ml finely chopped fresh coriander leaves

2-3

finely chopped green chillies

2

tsp

10ml coriander powder

1

tsp

5ml cumin powder

½

tsp

2.5ml turmeric powder

2

tbsps.

30ml besan flour (chana flour)

½

tsp

2.5ml salt (adjust accordingly)

Oil for frying

(olive oil or sunflower oil)
Instructions
In a small bowl, combined the flax seed powder and cold water. Allow it to stand for 2-3 minutes.

Process the Quorn Vegan Savoury Pieces until coarse and chunky and add to a large mixing bowl.

Remove the crusts from the bread and process to form fine crumbs. Set aside.

Using a clean dish cloth, squeeze the excess water from the grated potatoes and add to the mixing bowl along with the carrots.

Add a drop of oil in a pan and fry onions and spring onions until golden brown. Once cooked, add to the savoury pieces, potatoes and carrots.

Add the coriander leaves, chillies, coriander powder, cumin powder, turmeric powder, besan flour, bread crumbs and salt. Mix thoroughly by hand.

Add the flax seed mixture and give it another mix to evenly distributing the spices and other ingredients.

Form 8-10 small balls to form 1 – 1 ½cm medallions.

Heat oil in a heavy based frying pan over medium heat and gently fry for 2-3 minutes on each side until golden brown and cooked.

Serve with dips or sauces of your choice.
Notes
Tip: Flaxseed acts as a perfect egg substitute and binding agent.
Recipe credit: Videhi Sivurusan