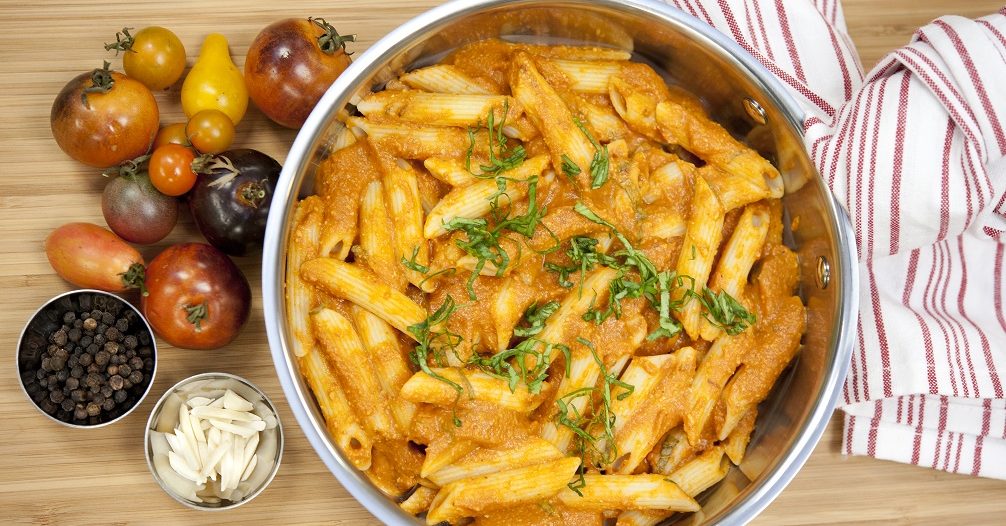 Penne Vodka
Penne Vodka
Ingredients
225

g

penne pasta

2

tablespoons

olive oil

4

cloves

minced garlic

1/4

teaspoon

crushed red pepper

1

can

(840g crushed tomatoes)

1/4

cup

60ml vodka

1/4

teaspoon

dried thyme

1/4

teaspoon

dried oregano 1/2 teaspoon salt

Few dashes of fresh black pepper

1/2

cup

115g sliced or slivered almonds

1/4

cup

1/4 of a bunch finely chopped fresh basil, plus a little extra for garnish
Instructions
Bring a pot of water to a boil and cook the pasta according to the package directions. Drain and set aside.

Preheat a saucepan over medium-low heat. Add the oil, garlic, and crushed red pepper to the saucepan and sauté for about one minute, until fragrant, being careful not to burn the garlic.

Add the vodka, thyme, oregano, crushed red tomatoes, salt, and pepper. Cover the saucepan and turn the heat up enough to bring the mixture to a simmer for about 20 minutes, stirring occasionally.

Once the sauce has simmered for 20 minutes, add the almonds. Use a hand blender to blend the almonds into the sauce until creamy and only slightly grainy.

Add the basil to the sauce, and mix the sauce and pasta together in the pot. Garnish with a little extra chopped basil and serve.
Notes
Recipe from "Veganomicon" by Isa Chandra Moskowitz and Terry Hope.
Photo Credit: Meredith Lee/HSUS
Serves 4