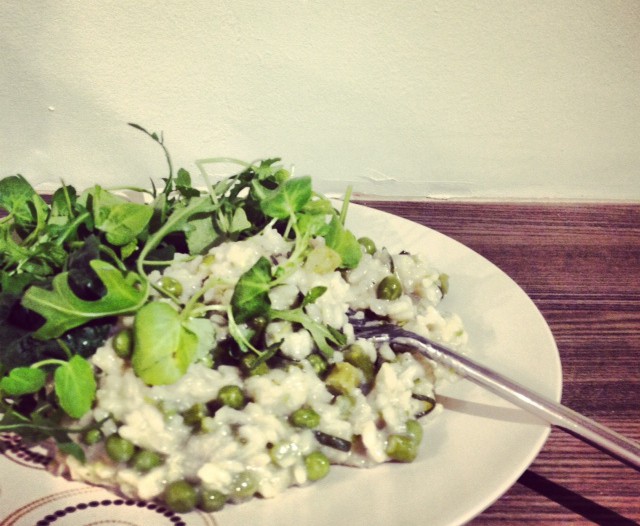 Pea and Mint Risotto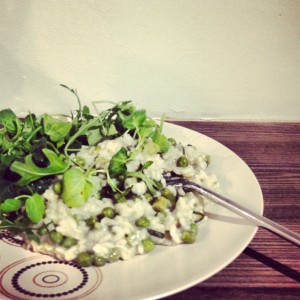 Pea and Mint Risotto
Ingredients
2

cups

large bunch fresh mint, roughly chopped

1

teaspoon

salt

(reduce to taste if sodium is a concern)

2

tablespoons

olive oil

1

yellow onion

(finely chopped)

3

cloves

of garlic

(minced)

⅓

cup

75ml dry white wine

2

cups

450g Arborio rice

6⅓

cups

1,425ml vegetable stock

3/4

cup

170g frozen peas

225

g

cup snow peas or sugar snap peas

(trimmed, blanched and halved)

½

cup

115g nutritional yeast

2

tablespoons

vegan cream cheese plus extra for serving

Snow pea tendrils

(optional)
Instructions
Put the mint and salt into a mortar and pestle, and pound it until a rough paste forms. If you don't have a mortar and pestle for the mint, give it a few pulses in the food processor, and then use the back of a spoon and a bowl to mash it into a paste. Add 1 tablespoon of the olive oil, and stir to combine. Set aside.

Heat the other tablespoon of olive oil in a large pot over medium heat. Add the onion and garlic and cook them, stirring occasionally, for 4-5 minutes or until the onion has softened.

Add the wine, then cook it off for another 2 minutes before adding the rice and cooking it for 2 more minutes, stirring frequently.

Add the stock, 1 cup at a time, allowing each cup to absorb into the rice mixture before adding the next, and cook, stirring frequently, for 20-25 minutes or until the rice is cooked al dente.

Remove the pot from the heat and stir in the nutritional yeast, vegan cream cheese, snow peas, frozen peas and salt and pepper (to taste).

Serve with a dollop of vegan cream cheese, and if you like, drizzle the servings with a little more olive oil. Add some snow pea tendrils, if you have them.
Notes
Recipe courtesy of Caeli Bussell of Little Vegan Bear.
Photograph www.sustymeals.com