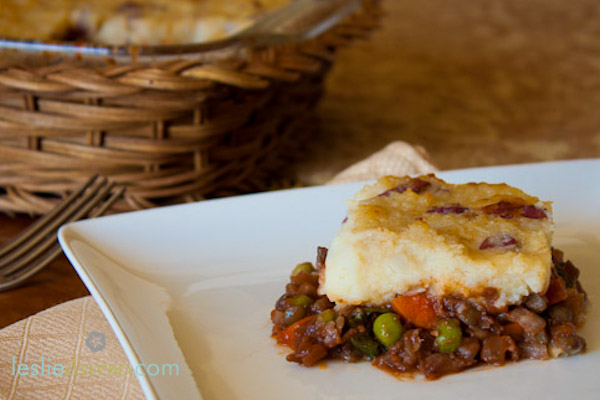 Mushroom Lentil Shepherd's Pie
Mushroom Lentil Shepherd's Pie
Ingredients
1 450

g

red potatoes

4

tablespoons

Ole medium fat spread

(vegan margarine)

1/2

cup

115ml unsweetened soy milk

2

carrots

(sliced and quartered)

1

onion

(diced)

3

tablespoons

olive oil

6 170

g

mushrooms of your choice

(sliced)

1

tablespoon

flour

1

cup

225g peas (fresh or frozen)

2

cups

450g chopped kale, chard or spinach

1

cup

225g cooked lentils, any variety

1 1/2

cups

340ml red wine

2

cups

450ml vegetable broth (stock)

1

tablespoon

soy sauce

2

tablespoons

tomato paste

4

cloves

garlic

1/2

teaspoon

dried oregano

Salt and pepper to taste
Instructions
Boil the potatoes with the skins on in salted water until fork tender, about 25 minutes.

Drain the potatoes and peel if desired. Place the potatoes back in the pot with the margarine spread and mash with a potato masher, adding the soy milk 1/4 cup (60ml) at a time until desired consistence is met. Add salt and pepper to taste and set aside.

In a large pot, sauté the carrots and onions in the olive oil. After 3 minutes, add in the mushrooms and continue to sauté until the mushrooms are soft, about 5 minutes.

Sprinkle in the flour and mix well until a paste has formed. Add in the wine and broth, stirring constantly, until the flour has dissolved.

Bring the mixture to a simmer and add the kale, peas, lentils, soy sauce, tomato paste, garlic and oregano. Stir and continue cooking on a light simmer for 7-10 minutes, or until the mixture reduces to a thick, stew-like consistency.

Pour into a 9x9 baking dish and top with the mashed potatoes. Bake at 200 degrees for 30-35 minutes, or until the potatoes are golden.