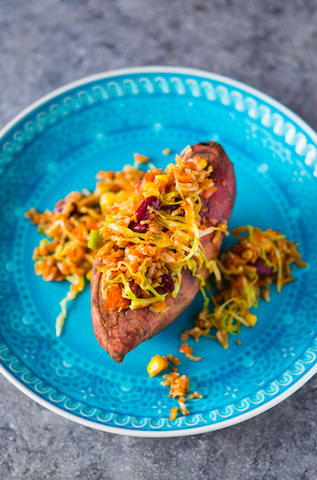 LOADED SWEET POTATO BOATS
LOADED SWEET POTATO BOATS
Ingredients
10

sweet potatoes

2

cans red kidney beans

350

g

frozen corn

340

g

shredded cabbage

200

g

grated carrot

2

teaspoons

chilli flakes

200

grams

chopped tomatoes

400

ml

coconut milk

3

teaspoons

cumin

2

teaspoons

ground coriander

2

teaspoons

paprika

2

teaspoons

cinnamon

2

teaspoons

garam masala

2

teaspoons

ginger spice

80

grams

fresh coriander

60

ml

lemon juice

500

grams

brown rice
Instructions
Cook the brown rice and let cool.

Preheat the oven to 200C. After washing and drying the sweet potatoes, pierce them each with a knife a couple of times.

Place the sweet potatoes on a baking tray and put in the oven at 200 C. Let them bake until soft inside, about 45min. A knife should pierce through easily all the way through the sweet potato.

Put all the contents of the coconut milk in the food processor along with lemon juice. Once mixed it will become a cream. If it is too thick to mix into a cream (depends on the brand of coconut milk) then add a little bit of water so that it becomes a creamy dressing.

In a pan heat the oil and add the rice, spices and crushed chillies. Stir the rice around so that all the rice gets coated in oil.

Now add the cabbage and grated carrot. If the rice starts to stick to the pan add more oil.

Now add the red kidney beans and the corn and mix in.

Last add the tomatoes to the rice mixture.

Now that you've made the rice mixture, turn off the heat.

Cut a slit down the centre of the sweet potatoes lengthways.

Stuff them with the rice mixture.

Pour the cream over the sweet potato and top with coriander.
Notes
Bluk recipe that serves 10